I was going to see how long I could go with just the clothes in my closet, but sometimes you just crave, you know? In this case, I wanted a purple cardigan.
The J. Crew Tippi in crushed grape looked just about perfect. I have a couple of the Tippi pullovers and love them. This particular color, a rich blue-purple, is beautiful on me -- it may be my best color.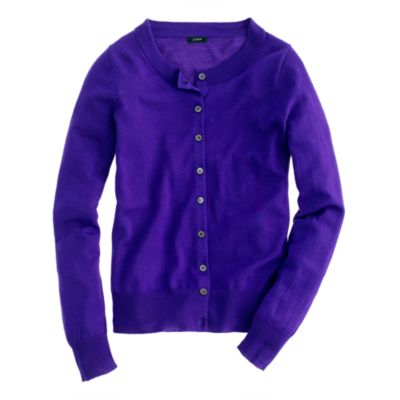 But then I found the velvet-trim merino cardigan in a very similar color at Banana Republic:
It really looks to be very similar: merino, similar neckline (though narrower trim on the BR version), similar length and spacing of buttons (9 buttons in both). As usual with Banana Republic, their version was substantially cheaper with sales and codes and whatnot, so I went for it.
I did NOT get the more deeply discounted purple color, even though I was tempted:
This is not the color I was looking for. It's redder and not as flattering a color on me, and just reads as less sophisticated overall. I can't put my finger on it, but it wasn't right, and I'm proud of myself for springing for the better purple. For some reason, this is very hard for me to do. Even when, like here, the cost difference isn't much, I have always found myself buying the cheapest colors in a sale, and that's why I ended up getting rid of so much stuff that was just wrong for me last year, including a heck of a lot of pink.
I am not sure what else I'll end up buying this year. I'm currently diverting nearly all of my free cash towards my student loans to
finally
have them paid off in May, 11 years from graduation. After that, I'll see. I'm seeing my favorite band play in a few months and I'll surely buy a t-shirt. My summer wardrobe is probably wanting a bit for lightweight dresses and skirts and t-shirts, but I'll figure that out after this snow melts. I could use a raincoat. But this is what I love about having my wardrobe mostly settled: I can take my time with purchases, buying things after I find I have a pressing need for them or, like this purple cardigan, just a color craving.